Ever wanted an Ansel Adams print?
Posted October 12, 2014 by Aaron Brethorst
Photograph by Terminals & Gates. Shot on Kentmere 400 film. CC-BY 2.0.
Fine-Art Photography Auctions Coming Up on eBay
Earlier this week, TechCrunch reported that eBay was to launch a live auction site for fine art and collectibles. As it turns out, eBay has some really amazing works going up for auction next Friday, October 17. Among other works, they'll be auctioning prints from Ansel Adams, Paul Caponigro, Henri Cartier-Bresson, Dorothea Lange, Brett Weston ("the bad-boy of Zone photography," as someone I know recently referred to him. Ahem.), Edward Weston, and Minor White. Wow!
Of course, the prints won't be cheap. A 1970s era print of Moonrise, Hernandez, New Mexico is expected to go for $15,000 - $25,000. I'd argue that Adams' 1970s prints of Moonrise were the best, but still, that's quite the price-tag. There are a ton of other prints up for sale, and I highly recommend browsing them all, or you can check out a list of my favorites.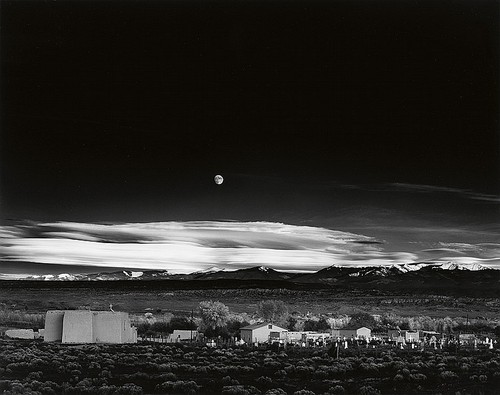 Moonrise, Hernandez, New Mexico - Bidding starts at $11,000
Quick Links
Sometime in the next couple days, FILM Ferrania will surpass their Kickstarter goal of $250,000. The money will enable them to purchase three large pieces of equipment to create a plastic film base, produce film emulsion, and coat the film base with chemicals at an industrial scale. I'm incredibly excited to see a 'new' film hit the market, and am incredibly happy that they've found enough support to meet their goals.
David Kirby, a UK-based photographer, wrote a fantastic tutorial on f-stop printing. It's a bit complicated at first blush, but read through it a few times, and it should be a life-saver next time you're in the darkroom.